GOVCOMORG FOUNDATION Issue Celebrities Movie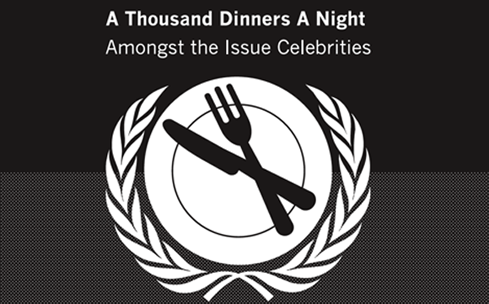 The Issue Celebrities movie chronicles the entanglement of social issues and celebrities. It takes seriously the otherwise cynical idea of celebrities entering and leaving social issues, depending on the distractions of publicity. Once a celebrity has provided an endorsement, what happens to the issue?
In the history of advertising, celebrity product endorsement first became prevalent in the U.S. in the 1920s and 1930s. For example, Amelia Earhart, the first woman to fly solo across the Atlantic Ocean in 1932 returned to the United States and endorsed wrinkle-free clothing for Macy's department store. (Earhart was later killed when her airplane crashed as she attempted to fly solo around the world in 1937.) The endorsement of social issues by celebrities may be located in the first UN goodwill ambassadors' program. Danny Kaye, the comedian who also entertained U.S. troops in Japan, was the U.N.'s first, to be followed by Audrey Hepburn, who both worked for UNICEF and children's issues. Most recently, Angelina Jolie has become a face for another U.N. agency, UNHCR; she first became interested in human rights (and the landmines issue) whilst filming Tomb Raider in Cambodia. She later adopted a Cambodian child, and her views on Madonna's adoption of a child from Malawi are covered in the entertainment news. U.N. Goodwill ambassadorship may be considered the ultimate recognition of the endorsement of an issue by a celebrity. There is a U.N. goodwill ambassador hierarchy: international, regional and national goodwill ambassadors. The United Nations Association of the U.S. named the former Beatle, Paul McCartney, and his wife, Heather Mills, Goodwill Ambassadors for Adopt-a-Minefield, the charity dedicated to landmine clearance and survivorship.

Paul McCartney previously worked on social issues, as have other former Beatles. Indeed, the first rock concert for a cause, Concert for Bangladesh, was organized by George Harrison. Speaking in 2003, U.N. General Secretary Kofi Annan said: "George Harrison was the first to understand and use the power of rock music to motivate people to embrace causes bigger than themselves." (Bob Dylan showed up at the last minute, playing 3 songs. Ringo Starr also appeared unexpectedly.) Paul McCartney played for the BandAid album, and appeared at Live Aid as well as Live8, with Bono of U2.

Heather Mills, the model who lost half her leg when she was hit by a police motorcycle on Kensington High Street in London, was active in the landmines issue for some time, and almost married the BBC producer who shot a documentary with her in Vietnam and Cambodia in 2001. Just before the documentary aired on TV, Paul McCartney telephoned her, and offered to donate money to the charity she had set up after her accident. Paul and Heather went on to marry, and also to couple on issues. Together they help to start up Adopt-a-Minefield, raising millions of dollars, largely through gala dinners, including N1KD, the Night of A Thousand Dinners, hosted amongst others by Michael Douglas and Colin Powell.
ANALYSIS
Celebrities Have Favorite Issues - Quantity of Celebrity Endorsement per Issue (February 2007) [pdf]

Celebrities Have Favorite Charities - Quantity of Celebrity Endorsement per Charity (February 2007) [pdf]


The Govcom.org contribution is an attempt to answer the question of whether we should have faith in exposure. Exposure in this case relates to issue exposure brought about through celebrity endorsement.

Three contexts of issue-celebrity studies contextualise the Issue Celebrities movie.

1. Daniel Boorstin, the American historian and former Librarian of Congress, in his book "The Image" (1961) defined a celebrity as a person well known for being well known. Thus the celebrity, to maintain herself or himself as such, must, at least by extension of Boorstin's account, continue to strive to be well-known. One could use the term celebrity maintenance. How to maintain the status? This particular position would lead immediately to cynicism. Celebrities must seek publicity, or have it seek them, in order for them to maintain themselves.

2. However, when you read the medical literature, you note how seriously celebrities are taken. The British Medical Journal in 1998 reported that the death of Linda McCartney increased the number of phone calls made to cancer information lines by 64%. In 2005 the American Journal of the National Cancer Institute found larger trends. Celebrity endorsement increased the number of mammograms and colonoscopies. In the same year the Medical Journal of Australia reported that Kylie Minogue's diagnosis of breast cancer not only increased the number of phone calls to info-centers and tests, but also news coverage of breast cancer.

3. So, celebrities have media effects on issue awareness. But how to think about these effects? In 2001 Nick Couldry, who works at the London School of Economics, wrote about "media effects" in terms of the uneven distribution of the symbolic power of celebrities. This uneven distribution of symbolic power leads us to consider the views of the celebrity over those of an expert. Timothy Weiskel, at Harvard University's Extension School, continued Couldry's argument, by asking, "why listen to the pop star's opinion on foreign policy when Madeleine Albright is available?" In both cases the authors discuss what Couldry called "the hidden injuries of media power". Celebrity attention to one issue may distract attention from other issues. Disproportionate symbolic power may lead to issue decline, also in terms of funding for a particular issue.

In all, our initial questions were:

Should we think about celebrity issue endorsement as a form of celebrity maintenance, maintaining well known-ness? Should we think about celebrity endorsement like the medical literature, whereby the positive effects of social awareness-raising, because of a celebrity's disease or condition, is of much greater importance than his or her publicity-seeking? Or finally should we think about celebrity endorsement in terms of the potential "hidden injuries of media power"?


LITERATURE LIST

Celebrity Endorsement and Its Effects (according to the Medical Literature)

Boudioni, M. et al. (1998) "Celebrity's Death from Cancer Resulted in Increased Calls to Cancer BACUP," BMJ 317(10): 1016.

Chapman, S and J-A. Leask (2001) "Paid Celebrity Endorsement in Health Promotion: A Case Study from Australia," Health Promotion International 16(4): 333-338.

n.a. (2005) "Celebrity Endorsements of Cancer Screening," Journal of the National Cancer Institute 97(9): 617.

Chapman, S. et al. (2005) "Impact of News of Celebrity Illness on Breast Cancer Screening: Kylie Minogue's Breast Cancer Diagnosis," MJA 185(5): 247-250.


McCranken's "Cultural Meaning Transfer Model" (1989), Its Followers and Its Critics

McCracken, G. (1989) "Who is the Celebrity Endorser? Cultural Foundations of the Endorsement Process," Journal of Consumer Research 16: 310-321.

Menon, M. et al. (2001) "Celebrity Advertising: An Assessment of Its Relative Effectiveness" Mimeo.

Jackson, D. and T. Darrow (2005) "The Influence of Celebrity Endorsements on Young Political Adults' Opinions," Press/Politics 10(3): 80-98.

Paek, H.-J. (2005) "Understanding Celebrity Endorsers in Cross-cultural Contexts: A Content Analysis of South Korean and U.S. Newspaper Advertising," Asian Journal of Communication, 15(2): 133-153.


Media Effects and the Politics of Distraction

Couldry, N. (2001) "The Hidden Injuries of Media Power," Journal of Consumer Culture 1(2): 155-177.

Street, J. (2004) "Celebrity Politicians: Popular Culture and Political Representation," BJPIR 6: 435-452.

Weiskel, T. (2005) "From Sidekick to Sideshow – Celebrity. Entertainment, and the Politics of Distraction," American Behavioral Scientist 49(3): 393-409.

Turner, G. (2006) "The Mass Production of Celebrity: 'Celetoids', Reality TV and the 'Demotic Turn'," International Journal of Cultural Studies, 9(2): 153-165.


STREAMING
MENU
CREDITS
Richard Rogers and the Govcom.org Foundation would like to acknowledge the generous support of the Netherlands Institute for Time-based Arts/Montevideo for the Artists-in-Residence program, January-February 2007. The Govcom.org team comprised Erik Borra, Marieke van Dijk, Noortje Marres, Sabine Niederer, Richard Rogers, Michael Stevenson and Laura van der Vlies.
The movie premiered in February 2007 at Faith in Exposure, the exhibition and seminar at Montevideo, curated and hosted by David Garcia.